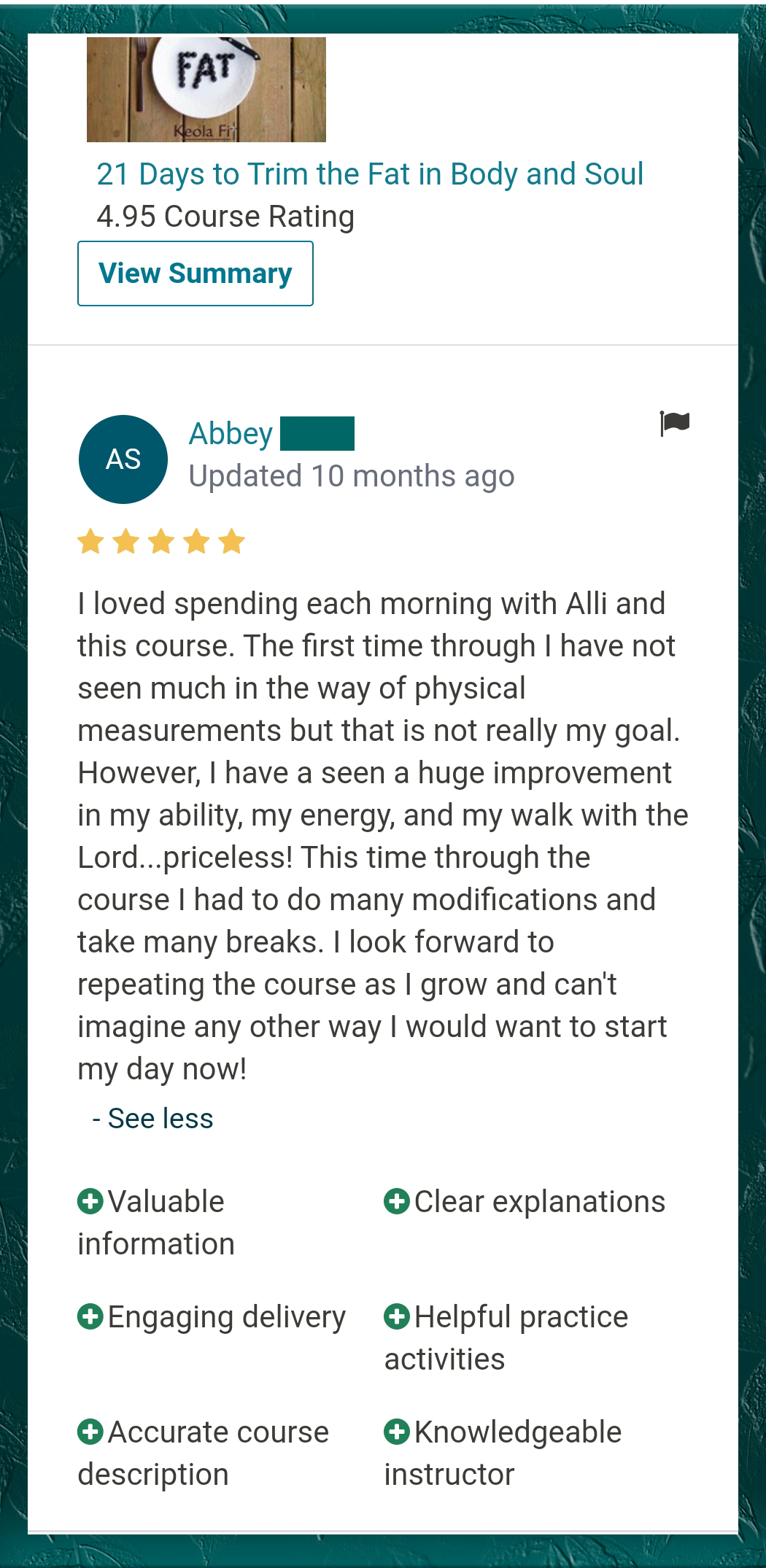 21 Days To Trim the Fat In Body & Soul
30 MIN PER DAY FOR HEART HEALTH | Learn To LIVE In the Father's Love & SHATTER the Voice of the Enemy
With a 4.95 star rating, this is the premiere workout program with Bible study shared by Keola® creator Alli Becker and truly a favorite of hers and others. This course will guide you into making better choices daily for body and soul with God, sharing excellent workouts and a powerful look at the Word to build your hope, faith, intimacy with God, confidence in hearing His voice, and endurance all the way to the promise.
Who this course is for:
People wanting to lose weight and spiritual bondage/baggage.
People wanting peace with their bodies, food, movement, and God.
People wanting to grow in faith and understanding of God's heart, voice, and Word.
People who love Jesus and are looking to make better choices for their overall health.
People who love Jesus, but are feeling stuck, discouraged, disappointed, or condemned.
This course is NOT for people who aren't ready to receive the love and forgiveness of God or wanting to walk in His purpose.
This course is NOT for people who aren't willing to commit to at least 30 minutes a day for themselves and God.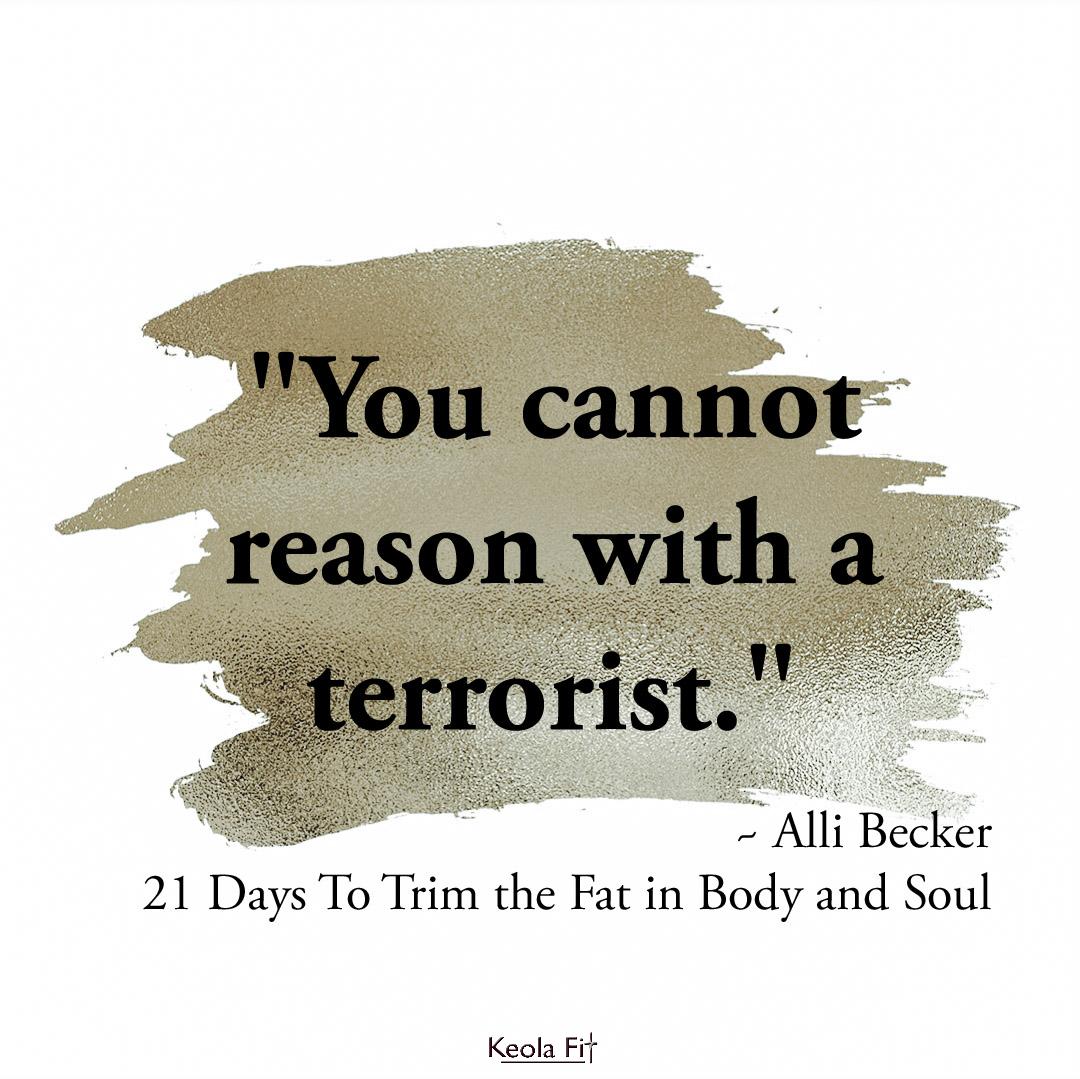 The enemy has been gaslighting and using psychological tools of confusion since he was first cursed in the Garden.
_________________
This Bible study will help you navigate the battle and stand strong all the way to the victorious finish line.
30 Minutes Per Day | A POWER 1/2 HOUR
This course offers three fat-burning, metabolism boosting HIIT+ workouts and one restorative full body strengthening workout per week. Each 30 minute workout benefits your total body, uniquely ministers the love of Jesus and truth of the Word as you move, as well as offers time with God.
You will also dive deep into the Word to catch a fresh perspective, seeing three main things that are common distractions, discouragements, and derailers to your walk with the Lord Jesus, commitment to Father God, and absorption of His love. You are not alone! These are common to every person walking this earth and Jesus has paid the price for you to be free!
You'll have time to meditate on these powerful weekly studies in both your personal time and your workouts.
By the end of the course, you will:
Gain wisdom and practical application that has the power to slim you down in both body and soul.
Make progress in your physical fitness with workouts that support several areas, including overall muscle tone, core strength, balance and stability, flexibility, as well as heart, lung, brain, and mental health.
Tools to grow: Revisit each workout at a more challenging level to grow with the program.
Learn how to keep in step with the Spirit, so you can walk out all God has in mind for you and hold fast to His promises.
Are you ready to go deep with Jesus?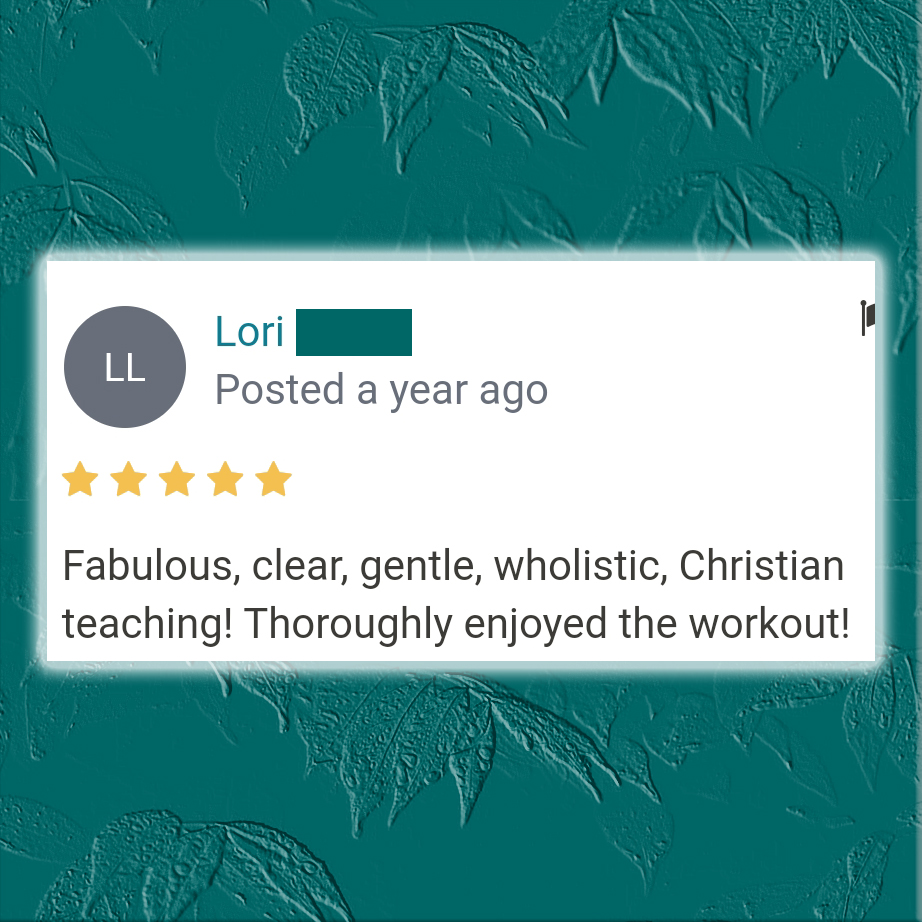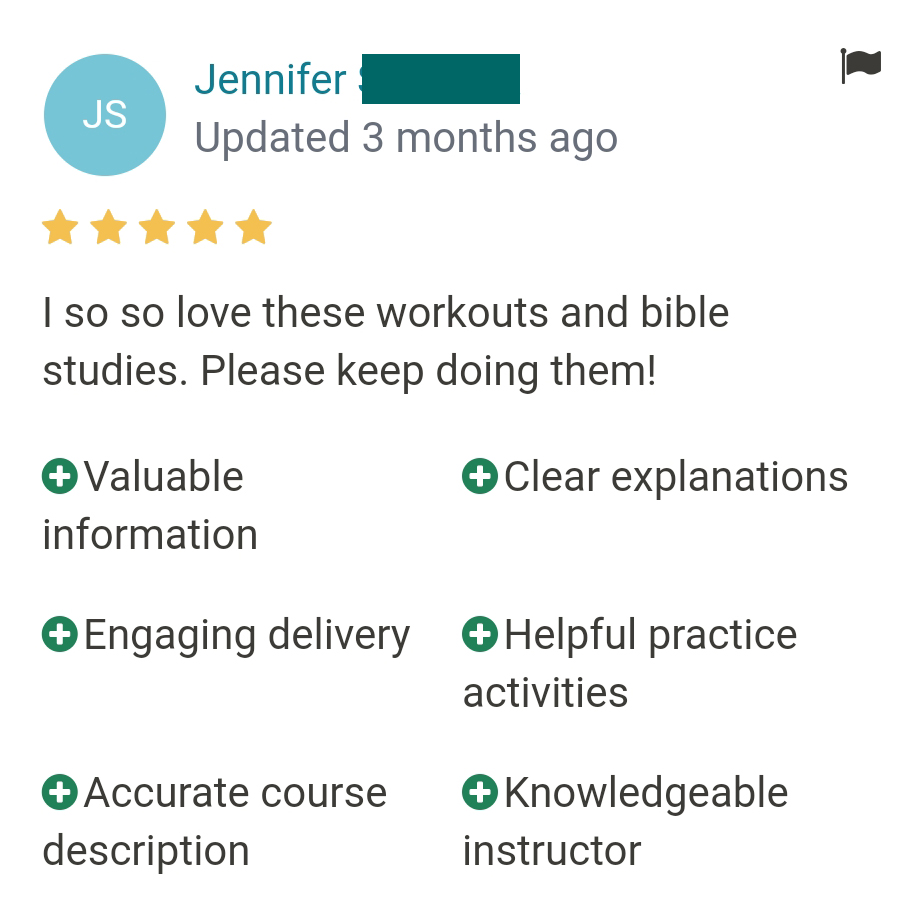 3 Weeks of the Word
Course includes downloadable PDF video guides with follow up questions for each of the three study videos helping you digest God's Word with His Spirit and a new BONUS workout.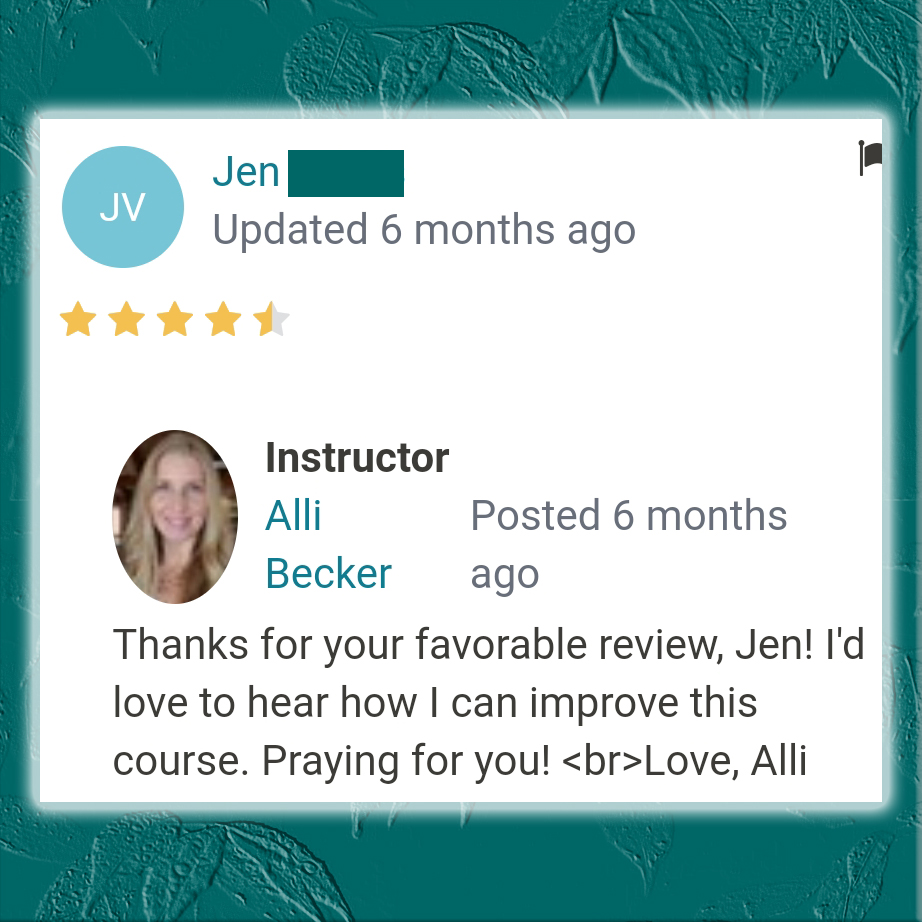 Daily Emails & Videos To Keep You On Track
ACE Certified fitness instructor and health coach, B.S. Biochemistry, advocates nutrition that is a blessing to God's creation, creator of Keola®, a Christian mind-body fitness program and alternative to yoga, and Keola Fit, LLC founder.
I've been praying for as long as I can remember. God has been my Father, First Confidante, and Friend. I have maintained that intimate relationship throughout the years even through very difficult and confusing times, like a hard marriage and the loss of my 9 year old son. I am passionate about helping others grow in their relationship with the Lord through an intentional, Spirit-led life filled with prayer, active faith, humility, abiding in the Word and Jesus (the very Word in the flesh), and lots of grace.
The courses in this school offer just some of the things I've learned as I've given my "Yes!" to God in the measure I knew how. I hope they are a blessing to you and encourage you to crush all excuses to not do what He's asking and trust Him with the process!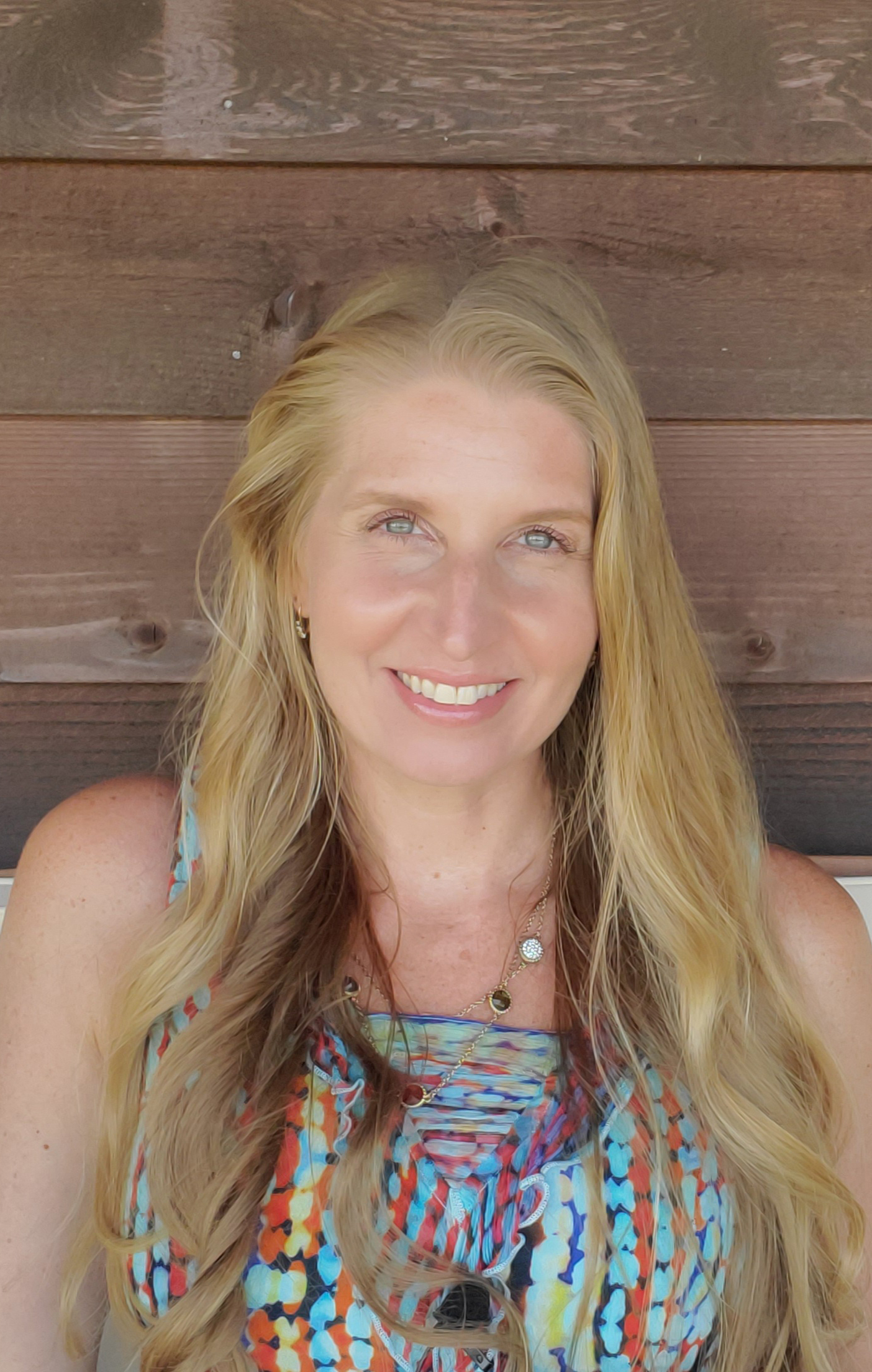 More Excellent Products To Support Your Fitness Goals & Spiritual Training
One, membership that includes this course, live virtual classes and so much more;
Two, downloadable Keola® position flashcards (with video links) strengthening you in body and faith, while helping you to grab hold of the Word and voice of God;
Three, an in depth look into the anatomy and formation of Keola® for those of you who want to teach (cuing and other teaching helps included) or just refine your own understanding of the movements and Word to receive optimal body benefits and ignite your ministry in sharing the good news of the Gospel of Peace.
Check out any of these three resources to learn more or click the button to see all course materials available in this online Studio School.